Fighter jets sent to escort Russian bombers away from UK airspace
Comments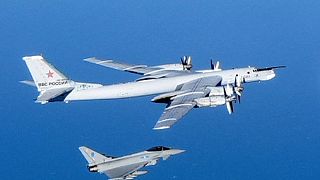 Britain scrambled fighter jets on Thursday after two Russian military aircraft were spotted near its airspace, officials have confirmed.
The Ministry of Defence (MOD) said the Russian Bear bombers were seen off the coast of Cornwall, south-west England, but did not enter Britain's airspace.
Royal Air Force fighter jets escorted the bombers until they were beyond Britain's "area of interest", added the MOD.
It comes just weeks after a similar incident in January, which caused disruption to civilian aircraft.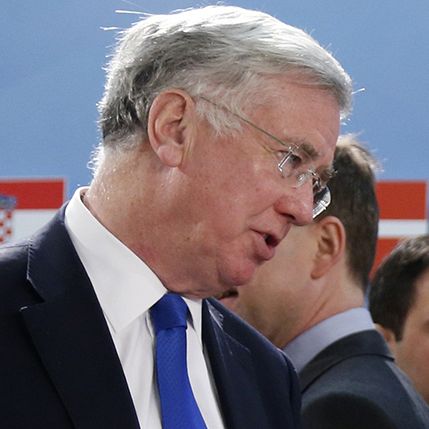 PUTIN

A "

REAL

AND

PRESENT

DANGER

" –

CLAIM

The controversy over Russian bombers near British airspace comes as the government's defence secretary, Michael Fallon, claimed Vladimir Putin poses a "real and present danger" to the Baltic states of Estonia, Latvia and Lithuania.

Fallon said Putin could instigate a campaign of undercover tactics to try and destabilise the three former Soviet republics.

"I'm worried about Putin," Fallon told the Times and Daily Telegraph newspapers, saying there was "a very real and present danger" Russia would seek to replicate the tactics it used to unsettle eastern Ukraine and Crimea in the Baltics.

"I'm worried about his pressure on the Baltics, the way he is testing NATO. NATO has to be ready for any kind of aggression from Russia whatever form it takes. NATO is getting ready," he said.

Russia's Foreign Ministry said Fallon's claims went beyond "diplomatic ethics". Spokesman Alexander Lukashevich, speaking at a weekly briefing with journalists, said Russia would find a way to respond to the comment.
Elizabeth Quintana, a senior research fellow at defence think-tank the Royal United Services Institute, said last month's incident could be linked to Britain beginning an inquiry into the death nine years ago in London of Kremlin critic and ex-KGB spy Alexander Litvinenko.
"Normally Russian Bears come past Norway and down the North Sea. It could have been used to probe the RAF speed of reaction (in the) south," she told the Daily Mail newspaper.
"Flying any military aircraft in or close to the sovereign airspace of another country signals displeasure or at worst aggression."
NATO made 100 interceptions of Russian aircraft last year, about three times as many as 2013, amid increasing tensions between the West and Moscow over the Ukraine crisis, reports Reuters.
Watch: Fighter jets intercept Russian bombers in January