Strauss-Kahn pimping case collapsed 'on its own' says lawyer
Comments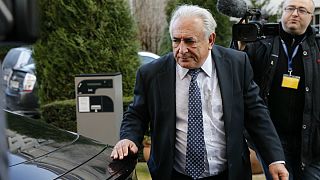 Lawyers in the aggravated pimping trial of former IMF chief Dominique Strauss-Kahn have made their closing arguments.
The case against DSK, as he's widely known as in France, collapsed on Monday when accusations against him were dropped.
Henri Leclerc, one of his three lawyers, told reporters they were confident of victory.
"The case collapsed by itself. Our explanations [in the closing arguments] only affirmed this collapse. We are now waiting for the decision of the tribunal and we are confident," said Leclerc.
DSK is accused of instigating about a dozen sex parties he knew involved prostitutes.
If found guilty, he could face 10 years in jail and a fine of up to 1.5 million euros.
The parties took place in France, Washington and Brussels while he was leading the IMF.