Rosetta captures some of the first 67P comet close-ups
Comments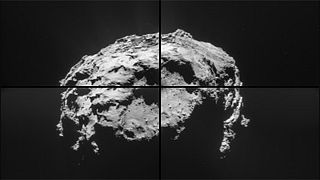 These are among the first close-up images of a comet being studied by European Space Agency (ESA).
ESA completed the first ever comet landing in November 2014, when its Philae robot touched down on 67P/Churyumov-Gerasimenko.
Philae was taken into space by mothership Rosetta, which is continuing its study of comet 67P.
Scientists hope the mission will provide vital clues about the original materials that went into building the Solar System.
Rosetta's latest task was to get up close-and-personal with the comet, ironically on Valentine's Day.
It has now sent these montage images back from the fly-by, which saw the spacecraft come within around 8.9 km of the comet's surface.
Gallery: Close-up pictures of comet 67P
Credit: European Space Agency