Taliban suicide bombers strike Afghan and Pakistani police
Comments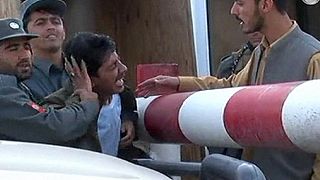 Up to a dozen policemen have been killed in a series of suicide bomber attacks in Afghanistan and Pakistan.
The attack in Logar province outside the Afghan capital Kabul was the latest to target security forces following the withdrawal of foreign combat troops at the end of last year.
In neighbouring Pakistan, another suicide attacker killed at least seven people in the eastern city of Lahore.
The Afghan assault on a police compound triggered a 25-minute gun battle.
Earlier, one person was hurt when a car bomb went off in Kabul, breaking a recent lull.
Zabihullah Mujahid, a spokesman for the Taliban, claimed responsibility on his official Twitter feed.