Thousands rally in support of Greece's anti-austerity government ahead of bailout talks in Brussels
Comments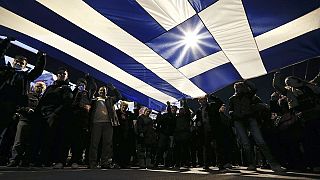 Around 20,000 people gathered in front of the Greek parliament on Sunday to show their support for their new anti-austerity government.
Finance Minister Yanis Varoufakis is leading the battle to try to persuade eurozone colleagues to reduce the country's debt burden. He is due in Brussels again today for crucial talks.
Together with Prime Minister Alexis Tsipras the two want a bridge programme to be put in place for a few months while a new deal is agreed to replace the bailout, which has already forced drastic cutbacks onto ordinary Greeks.
Those who turned out in Athens are right behind him.
"At last! We need to stop being humiliated, we must restore our dignity. We will pay them back! But now we need to take a breath, just one breath," said one man.
"Most countries in Europe are facing the same or similar economic problems." said one young woman. "I hope that we are the successful experiment which topples this policy, we are hoping that our message will lead to a change for all Europeans."
Indeed there were demonstrations in Paris, London and other European cities on Sunday which were organised to show solidarity with Greece.
No euro no cry – Antarsya placard in Greek solidarity demo in Amsterdam today. #mazi#15fpic.twitter.com/GzFMe8Mg8e

— Erik Wesselius (@erikwesselius) February 15, 2015
The rest of the eurozone, particularly Germany, says Greece must continue with its bailout commitments as a quid pro quo for the 240 billion euros it has received in bailouts.
And although Europe has warned Greece that chaos will follow if it doesn't comply it doesn't seem to have deflated the mood of optimism on the streets of Athens..
Reporting for euronews in Athens, Apostolos Staikos said the clear message from the thousands who took part in Sunday's rally was that Greece had turned page' and austerity belongs in the past.