Exclusive: Israeli intelligence minister warns of nuclear arms race in Middle East
Comments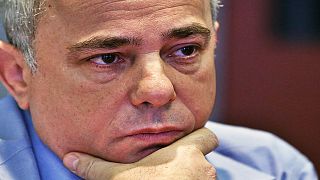 A nuclear deal with Iran will spark an atomic arms race in the Middle East, Israel's intelligence minister has warned.
Speaking in an interview with euronews, Yuval Steinitz sets out his case for ensuring Iran cannot remain in a position to develop nuclear weapons.
"First, sooner or later they will produce a bomb. Exactly like what happened after a similar agreement with North Korea a few years ago. And second, other countries, other Sunni countries in the vicinity will demand it," he said.
Saudi Arabia's Sunni rulers have long been concerned about the aspirations of the Shi'ite regime in Tehran. Turkey and Egypt would also be wary of seeing the balance of power in the region shift.
In the interview, which will air in full on Wednesday (February 18), Steinitz also:
gives his country's analysis on how long it would take Iran to produce a viable weapon
alludes to the disruptions suffered by Tehran's programme, widely attributed to Israel
sets on the conditions which Israel would like to see around any end to sanctions on Iran
Israel has a policy neither to admit nor deny that it has its own nuclear weapons programme.
However the country has at least 80 nuclear warheads, according to the latest data complied by the Stockholm International Peace Research Institute in June 2014.
The US, Russia, China, Britain, France, and Germany are conducting talks aimed at an agreement to end Iran's nuclear weapons programme in return for a lifting of sanctions and asset freezes. They have set a deadline for an agreement of the end of June.