Intense shelling in eastern Ukraine drives civilians to seek refuge across Russian border
Comments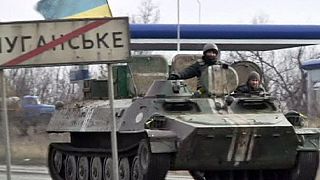 Despite intense shelling by pro-Russian rebels, Ukrainian forces remain in control of the strategic railway hub of Debaltseve. The town lies in a pocket between the two main separatist controlled regions.
Government troops claim to be confident of holding onto the town even though rebels have steadily encroached on surrounding towns and villages.
'Vysota' Commander of the 25th Volunteer Battalion said: "We haven't had any direct encounters (with the rebels) today but our position was shelled by mortars and one particular position was fired at with GRAD rockets. Fortunately no one was killed, but the situation is rather difficult, but we will overcome it."
But deteriorating living conditions are forcing more and more civilians to leave frontline towns.
On the border between Ukraine and Russia, long queues of cars wait to cross. Most have Donetsk region registrations plates and their passengers say the upsurge in fighting is intolerable.
"They are shelling… they are shelling and that's why people are leaving. It (a shell) exploded and we got scared, what else can we do? We want to live," explained one refugee from the Donetsk region.
More than 5,000 civilians, Ukrainian soldiers and pro-separatist fighters have been killed since the separatist rebellion erupted in Ukraine's eastern territories.