How has pilot's savage killing affected support for ISIL in Jordan?
Comments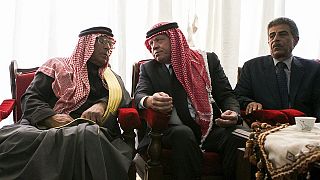 Jordan's King Abdullah has stood against the extremist movement ISIL from the start, although the Hashemite Kingdom's 6.5 million people have been divided.
The execution of a captured Jordanian Air Force pilot rallied more to the government position.
It bolstered the country's participation in the US-led military coalition against the ISIL jihadists, but that participation is still politically challenging.
The pro-western reformist Abdullah vowed to avenge the death of Lt. Mouath al-Kasaesbeh, a member of a large tribe that forms the backbone of support for the monarchy.
But, among its people, Jordan also harbours support for the Islamists.
Graffiti in the town of Ma'an, around 240 kilometres south of the capital Amman, bears this out, as does the portrait of Osama Kraishan, a Jordanian killed in Syria last month.
Anti-western radical Islamism in Jordan pre-dates the regional rise of ISIL.
Support for the Syrian revolution against its president Bashar al-Assad is reported to have prompted some 300 young men from Ma'an to go and fight.
Around 2,000 Jordanians are thought to be fighting in ISIL's ranks.
Former jihadist Omar Mansour, who fought with al-Qaeda in Syria, the forerunner of ISIL, said: "I joined the jihad in Syria in 2013, with the Nusra Front against the regime forces, but came back to Jordan because of illness."
Another former jihadist, keeping his identity secret, said: "What happened in Syria has made our hearts bleed. I joined the jihad for the sake of Allah, to make Allah's word supreme."
The government can fight in the coalition against it more publicly now (along with Bahrain, Saudi Arabia and the United Arab Emirates).
But the Salafist dissent in Jordan also undermines domestic reform efforts.
The need for reform was drawn into sharp focus with the uprisings in 2011 in several Arab countries, an expert on Islamic movements underscored.
Analyst Hassan Abu Haniyeh said: "There are deep problems in Jordan — economic, political and social. If these problems are not solved, it will create more hotbeds for ISIL. The number joining is growing. Before the Arab Spring there were no more than 4,000 jihadis, now we are talking about 9,000."
King Abdullah said that moderate Muslims must fight a group whose ideology and brutality insult Islam, though many Jordanians are not convinced.
A former minister said the government was "walking a tightrope".