Bob Marley fans celebrate the 70th anniversary of his birth
Comments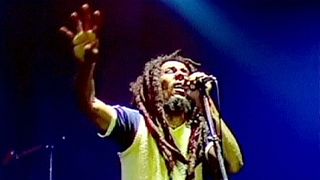 It is 70 years ago today (Feb. 6) that reggae legend Bob Marley was born.
Jamaicans are celebrating at his former home with free concerts and jam sessions.
Marley was aged only 36 when he died from cancer in 1981 in Florida.
He was born in Nine Mile, a district north of Kingston.
One of Marley's sons was expected to take part in some of the celebrations.
But Marley's legend status is not shared by everyone in Jamaica.
The country has been debating for years whether he should be added to the Order of National Heroes. The seven people currently on the list are politicians.
"It's high time the government makes him our eighth national hero," said Errol Campbell, 57, a mechanic in Kingston.
He told the Reuters news agency: "Bob was a reggae genius who has done more for Jamaica than most others by popularising our music."
Some people say he should not be added because he smoked marijuana and voiced disrespect for authority.
But others say there should be no hesitation in adding his name to the list because of his world stardom as a reggae legend.