Seven killed, 12 hurt as New York train hits car
Comments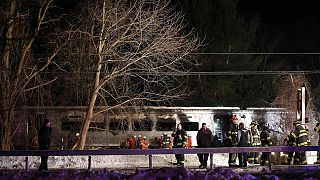 At least seven people have been killed after a New York commuter train hit a vehicle stuck on the track during the evening suburban rush hour.
The collision sparked an explosion and fire, and around a dozen people are said to have been seriously injured.
Hundreds were on the train at White Plains just north of the city when the crash happened.
"We started to hear people further up toward the head of the second car starting to panic a bit and they were calling for a fire extinguisher which we were able to go to the back of the second car and get — tried to pass that up into the head car. We could not get the head car's door open for some reason," said passenger Jamie Wallace.
New York Governor Andrew Cuomo told a news conference after visiting what he said was a devastating scene.
"This is a truly ugly and brutal sight," he told reporters. "The third rail of the track came up from the explosion and went right through the (rail) car, it's a devastatingly ugly situation."
Those who died were reportedly six rail passengers and the female driver of the vehicle – a Jeep Cherokee – who was seen trying to push it off the track just before the collision. She is said to have got back into the car just before it was hit. Officials did not say why the car was stalled on the tracks.
The route carries commuters through affluent New York suburbs, among the richest in the United States.