French anti-terror department investigates knife attack in Nice
Comments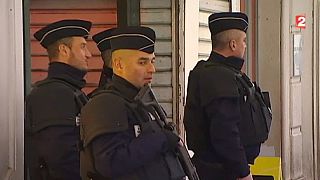 France is confronting a new phenomenon "easy access terrorism", according to Interior Minister Bernard Cazeneuve.
His words came soon after two soldiers were injured in a knife attack in Nice, close to a Jewish community centre. They had been on duty as part of the country's vigipirate response to the Paris attacks last month.
The assailant, Moussa Coulibaly was known to the authorities for a string of petty crimes and popped up on their radar after buying a one-way ticket to Turkey last week. He is still being questioned by police.
The French media are piecing together his profile. Though he shares the name of the attacker of a kosher supermarket in Paris, there appears to be no direct link. He had been flagged up for signs of radicalisation after an altercation in the shower rooms of a gym. He was also questioned by members of the security services (DGSI) after he attempted to travel to Turkey, which authorities suspected could have been a route to fight for Islamist groups in Syria.
A second person has been arrested as the counter-terrorism department continues their investigations.
The attack is provisionally being treated as a terror act, though Nice police sources say he was an 'unbalanced individual' with a record of violence towards officers.
The incident bears the hallmarks of previous aggressions. In particular Bertrand Nzohabonayo, who attacked three policemen with a kitchen knife in the police station of Joué-lès-Tours in December last year. He had also been signalled to the security services for signs of radicalisation.