King Abdullah says killing will unite Jordanians but faces protests at home
Comments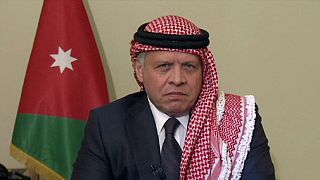 Jordanians have been shocked and saddened by the grisly death suffered by one of their pilots at the hands of the ISIL extremists.
King Abdullah was on a visit to the USA when the news broke, and his reaction was swift.
"The duty of every man and woman in our country is to face these difficulties and these problems. This will make us stronger, and more united," he told his nation via satellite TV.
However the King may struggle to carry the nation with him. Mouath al-Kasaesbeh belonged to a key tribe backing the Hashemite throne, and his family's mourning will be deep and long.
"This campaign has no meaning, we have no interest in it. What is our business in Syria? They want to throw away our children in Syria. What are we doing there?" said one man.
Protests against the King began in front of the tribal headquarters almost as soon as the pilot's death was confirmed, with people crying out they would seek revenge for his murder.