Heavy shelling in eastern Ukraine forces civilians to flee
Comments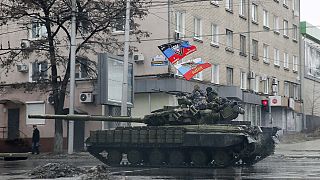 There has been no let-up in fighting around the town of Debaltseve in eastern Ukraine.
Locals are being encouraged to abandon the areas of fiercest fighting, where many have been living in makeshift bomb shelters, waiting for breaks in the bombardment to make quick trips for food and water.
Latest reports say at least seven civilians were killed on Sunday.
One woman hiding in a cellar said she was very frightened:
"We live at the edge of the city, the last street is where the military are now. That's very scary. We don't want war, we want peace. We want our children to be able to play in our yards instead of living in a bomb shelter."
Debaltseve is a government held transport hub in between two main rebel strongholds that separatists want to cut off.
Hopes of easing the situation evaporated on Saturday with both sides blaming each other of sabotaging hastily arranged peace talks.
Debaltseve residents are being encouraged to leave by whatever means they can. Scores have been getting out – refugees in their own country seeking safety in other government held towns.
The organisation for Security and Cooperation in Europe (OSCE) which took part in Saturday's talks in Minsk, Belarus along with the envoys from Ukraine and Russia, said rebel delegates had not been ready to discuss crucial points of a peace plan.
It said rebels had been more interested in pushing for a revision of a ceasefire plan agreed in Minsk last September.
The terms of that 12-point accord have been repeatedly violated but Kyiv and foreign governments see it as the only viable roadmap to end the nine-month long conflict in which more than 5,000 people have been killed.
The rebels rejected the OSCE's assessment, saying they were ready for dialogue, but unwilling to accept an "ultimatum" from Kyiv so long as government forces continued to shell civilian areas.