Super Bowl 2015: Seahawks v Patriots
Comments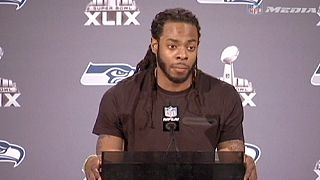 The Seattle Seahawks will be looking to defend their Super Bowl title when they lock horns with the New England Patriots at the University of Phoenix stadium in Arizona on Sunday.
As Seahawks cornerback Richard Sherman prepares for the big game, he and his girlfriend, Ashley Moss, are preparing for an even bigger moment — the birth of their first child. The 26-year-old told journalists that his son will be a "disciplined young man" and wait for his father to play the Patriots.
Playing in a record equalling sixth Super Bowl, Tom Brady, who has thrown more postseason touchdowns than any player, can join legends Joe Montana and Terry Bradshaw as the only quarterbacks with four championship rings with a win.
For the second year running, the showpiece match features the top two seeded teams, although the Patriots will hope to avoid the same fate as the Denver Broncos, who were thumped 43-8 by the Seahawks in New Jersey last February.