Russian mother-of-seven to stand trial for treason over Ukraine call
Comments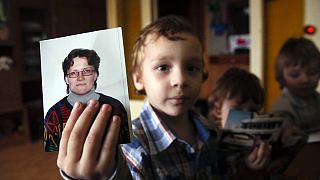 It has been seven days since Anatoly Gorlov has seen his wife.
Accused of treason, Russian citizen Svetlana Davydova was jailed last week on suspicion of treason after she called the Ukrainian embassy with information on possible Russian troop movements.
She is now in the Lefortova pre-trial detention centre, though no date yet has been set for her hearing.
Her husband explained she is a passionate opponent of the conflict in the east of Ukraine which has killed more than 5,000 people since April last year.
"She possibly might have considered that by calling the Ukrainian embassy, fewer people would die," Anatoly said adding, "on top of that they say that Russia is not at war or something else. I know that she was not driven by any harmful intentions."
The mother-of-seven had been on maternity leave looking after their two-month-old baby girl when she was taken into custody.
Anatoly explained that her absence is taking its toll on the children. "But they know also that papa will do everything he can to get them back with mama," he added.
The alleged crime happened last April when Davydova contacted the Ukrainian embassy in Moscow. She reportedly told them that the military base near her home was virtually empty, and that the troops may have been sent to Donetsk.
Speculation over Russian troops in Ukraine has been a source of tension for the Kremlin.
Davydova's state appointed lawyer said that she stands accused of disclosing state secrets, a crime which punishable by up to 20 years in jail.