Mexico gas blast devastates maternity hospital killing two
Comments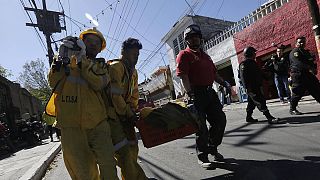 A tanker truck making a routine gas delivery has exploded at a maternity hospital in Mexico City.
At least two people have been killed with 66 injured, 20 are said to be in a critical condition.
The blast happened as the gas was being transfered to the hospital kitchens and started to leak.
The delivery men screamed "call the firefighters," as a cloud of gas developed, before exploding with devastating results:
Search and rescue teams are scouring the rubble for survivors.
Hector Mendes is directing operations: "It's a painstaking task sifting through the rubble. This is a hard job, it takes a lot of time. I'm here with a very experienced team."
As much as 70 percent of the hospital has been destroyed and patients have been transfered to nearby clinics and medical centres.
The truck driver and his two colleagues are under arrest and are receiving treatment for injuries.