Israel and Hezbollah exchange fire near Lebanon border
Comments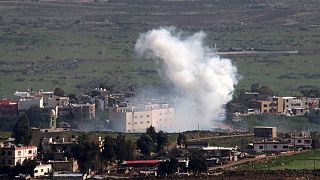 Exchanges of fire have been reported between Israeli forces and Hezbollah fighters near the Lebanese border.
Israeli media say an army vehicle was fired on in the Har Dov area and there were a number of rocket explosions. Several Israeli soldiers are said to have been wounded.
Israeli air force jets struck Syrian army artillery positions near the Israel-occupied Golan Heights on Wednesday, the military said, in retaliation for rockets launched in the area.
On Tuesday at least two rockets from Syria hit the Israeli-occupied area.
All this comes amid heightened tension ten days after an Israeli strike in Syria killed an Iranian general and several Lebanese Hezbollah fighters.
Since then troops and civilians in northern Israel and the Golan Heights have been on alert. The Israeli military has deployed an Iron Dome rocket interceptor near the Syrian border.
"Those who try to challenge us on our borders will discover that we are prepared to respond with force. Israel views the attack from Syria very seriously. Those who play with fire will get burned," said the Israeli Prime Minister, Benjamin Netanyahu.
Last week the funeral was held in Tehran for the Revolutionary Guard general killed in the Israeli strike on a Hezbollah convoy.
Iran told the US the attack had crossed "red lines", vowing to respond.
Washington has urged all sides to avoid jeopardising the long-held ceasefire between Israel and Syria.