Fate of ISIL hostages unclear after Jordan offer to swap prisoners
Comments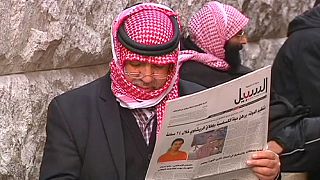 The fate of two hostages held by ISIL, a Japanese journalist and a Jordanian air force pilot, remains uncertain 24 hours after threats to kill them imminently were revealed.
In exchange for the pilot's freedom, the Jordanian government has agreed to release a convicted al Qaeda terrorist, on death row for her role in a suicide bomb attack ten years ago.
The government said it had had no response to its offer to swap prisoners.
The self-proclaimed Islamic State had demanded the release of Sajida al-Rishawi in exchange for the airman, Lieutenant Muath al-Kasasbeh, and the Japanese reporter Kenji Goto.
The pilot's father had appealed to the King of Jordan to free the Iraqi woman, criticising his government's efforts to secure his son's release.
The government statement read out on Jordanian TV confirmed the priority was to safeguard the airman's life, but made no mention of the Japanese hostage.
His fate was thought to be tied to that of Goto after a video was released on Tuesday purporting to show the Japanese national saying he had 24 hours to live unless Jordan released al-Rishawi.
The voice on the video said Kasaesbeh had a shorter time to live.
Tokyo's diplomatic efforts have been focused on Amman to try to free the reporter.
Japanese State Minister of Foreign Affairs, Yasuhide Nakayama, in the Jordanian capital, said his government would never give up till Goto was home.
The hostages' plight has focused debate in Jordan over the country's role in the US-led coalition against ISIL.
The pilot was taking part in air strikes in Syria, which many Jordanians oppose. He became the first prisoner from the coalition to be taken by the militant group when his plane came down in Syria in December.
On Tuesday several hundred people including the pilot's relatives protested in Amman urging the authorities to meet the extremist group's demands.
In Japan where demonstrators have called for the reporter's release, Prime Minister Shinzo Abe condemned the extremists' threats as "despicable", saying Tokyo would not give in to terrorism.