Ukrainian rebel attacks on city of Mariupol are condemned by the UN as a war crime
Comments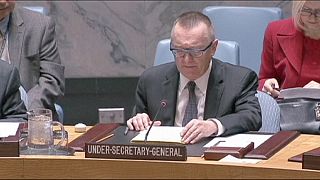 The US and Russia remain as far apart as ever over who is to blame for the current escalation in fighting in eastern Ukraine.
The weekend's deadly rocket attacks on the government held port city of Mariupol
on Saturday have been described by the UN at an extraordinary meeting of the Security Council as a ceasefire violation and a war crime.
US Ambassador to the UN, Samantha Power didn't mince her words when she accused the restarting of the rebel offensive in eastern Ukraine as being "Moscow-made":
"Unfortunately we are back here today because Russia and the separatists have once again flouted these commitments. The targets are fresh ones, but Russia's end goal remains the same : to seize more territory and move the line of Russian-controlled territory deeper and deeper into Ukraine."
Russian Ambassador to the UN, Vital Churkin laid responsibility for the recent increase in fighting firmly at the door of the Ukrainian government in Kyiv. Russia blames Kyiv of failing to withdraw heavy weapons from an agreed demarcation line. They also want a reduction in international involvement in the crisis.
"The Kyiv authorities need to be forced to sit down around the negotiating table….. The main thing here that everyone should understand is that real results can only be achieved through direct dialogue between Kyiv , Donetsk and Luhansk," said Ambassador Churkin.
The divergence of opinion was later extended to NATO. Secretary General Jens Stoltenberg speaking in Brussels reacted angrily to claims that Alliance soldiers are fighting alongside Ukrainian government troops, calling it "nonsense".
With the US accusing Russia of restating the rebel offensive in eastern Ukraine, and Russia blaming Kyiv for the violence, there has been little progress in reasserting September's Minsk peace accord.