Spain's hunt for Miguel de Cervantes's remains uncovers clues
Comments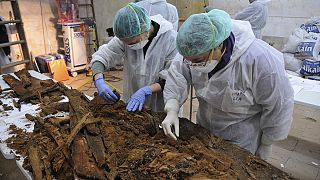 Excavations in the crypt of a Madrid church to recover the remains of celebrated author Miguel de Cervantes have uncovered bone fragments and coffin sticks with the initials 'MC'. That's sparked speculation that they may be getting closer to finding the skeleton belonging to the "Don Quixote" writer.
Cervanteswas buried in Madrid's Convento de las Trinitarias Descalzas nearly four centuries ago.
But the coffin containing his remains were lost during construction work at the church.
Ground-penetrating radar equipment was used in the first phase of the search which began last April. The equipment, together with information about his physical features, is needed to accurately identify the remains.
Forensic anthropologist Francisco Etxeberria, who has been taking part in the search, said it was important to gather as much information about Cervantes's physical features as possible to be able to accurately identify the remains.
"Cervantes described himself as having a curved nose, and a hunchback, caused by osteoarthritis. But also, he said that he had almost no teeth, just six of them,"explained Etxeberria before the search got underway.
"We have to add to that what everybody knows about Cervantes: his wounded left hand," he added.