US: Passenger planes given all clear after 'credible' bomb threats
Comments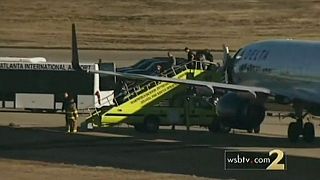 US fighter jets have accompanied two passenger planes to an airport in Atlanta, after bomb threats were made.
The Delta and Southwest planes landed safely at Hartsfield-Jackson International Airport.
No devices were found aboard either flight, one from Portland in Oregon, the other from Milwaukee.
Officials said the threats, reportedly made on Twitter, had been deemed "credible."
The incident came five days after bomb threats were made against two other Delta flights. One was arriving at John F. Kennedy airport in New York from San Francisco, and another was departing from the New York airport for Tel Aviv.