Yemen protests in wake of president's resignation
Comments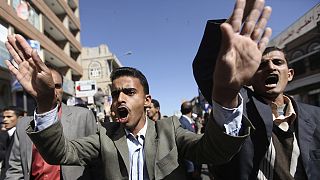 Protests have swept across Yemen in the wake of the president's resignation which has left a gaping political void.
In the south of the country, thousands called for their region to secede as Houthi militia tightened their grip on the capital.
Houthi supporters and pro-democracy activists staged rival rallies in Sana'a.
President Hadi stepped down after the Shi'ite militia took control of the capital in September, making him a virtual prisoner inside his residence.
The Yemeni parliament is scheduled to meet on Sunday to accept or reject his resignation, and the pressure is on to find a solution.
The Houthis have proposed a ruling council, but an alliance of parties rejected it, and they are now holding talks with different factions to plot their next move.
With no president, there are fears that al-Qaeda's Yemen branch could take advantage of the political vacuum.