US says mistrust must be overcome to restore Cuba ties
Comments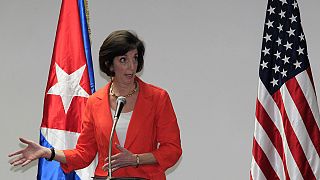 The United States and Cuba have ended their historic first round of high-level talks aimed at restoring diplomatic relations.
We have to overcome more than 50 years of a relationship that was not based on confidence or trust, so there are things we have to discuss  before we can establish that relationship.
Over two days, a range of topics were discussed but the head of the US delegation made it clear the issue of human rights remains a huge stumbling block.
"The issue of human rights remains central to our conversations. We are ensuring that we raise those issues directly with the Cuban government," said US Assistant Secretary of State Roberta Jacobsen.
The head of the Cuban delegation, Josefina Vidal, told reporters she too expressed concern over human rights in the United States, referring to recent police killings of unarmed black men.
"I can confirm that the word "pressure" was not used. We had an exchange during which both sides confirmed and affirmed our positions, the visions, the concepts about the exercising of human rights."
Chief among the differences is the comprehensive US trade embargo against Cuba. Havana wants to be removed from the US list of state sponsors of terrorism. It also deplores the US granting safe haven to Cubans.