SYRIZA, a radical left force to be reckoned with in Greek elections
Comments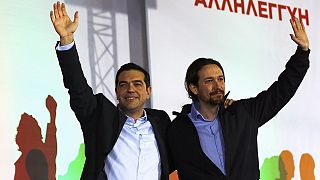 With just one day of campaigning left in the Greek elections, SYRIZA has widened its lead in the latest polls.
With Syriza we will get back our dignity. We are fed up with being Europe's troublemakers.
The leader of the anti-austerity party, Alexis Tsipras had a little help from friends at his final rally in Athens.
Pablo Iglesias, the leader of Spain's radical left Podemos party was on hand to boost Tsipras' bid for a big win on Sunday.
"The wind of democratic change is blowing in Europe," Iglesias, told the crowd.
If SYRIZA wins, it would usher in Europe's first radical leftist government since the crisis left the country crippled by austerity measures.
"On Monday we will end the national humiliation of receiving instructions from abroad and governance by email," said Tsipras to rapturous applause.
SYRIZA has Brussels worried with promises to renegotiate the country's debt repayments, but its something which has revived hope amongst many Greek voters.
"I think that with Syriza we will get back our dignity;" said Syriza supporter Panagiotis Kokoros. "We are fed up being Europe's troublemakers. We want a decent country again."
" Syriza's victory will reverse our current course and will stop the humanitarian crisis in Greece," said another supporter Yiannos Giannopoulos. "It will reduce unemployment rates and restart economic growth."
Euronews correspondent Nikoletta Kritikou summed up:
"In his speech Alexis Tsipras sent a clear message that his party is close to the threshold for an outright victory. At the same time, he addressed the swing voters, stressing the importance of getting the absolute majority, so as to have the mandate to form a strong government the day after elections".