Soup kitchens and start-ups share Greece election anxiety
Comments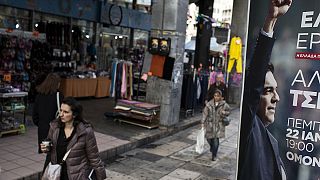 Out in the open air, in the centre of Athens is a soup kitchen. Here the atmosphere is not one of trust in the future, whatever the result of Sunday's parliamentary elections. After so many years of deprivation and hardship, the only objective is to obtain a meal.
Constantinos Polychronopoulos lost his job four years ago. Since then he has created "The Other Human", a charity which feeds the needy. In 2011 they provided 50-60 meals a day; four years later the figure is 450.
"No matter who gets elected, I will continue to be unemployed, I will continue to not have a single euro in my pocket. Therefore I don't care if we use the euro or the drachma. I don't have such dilemmas and there are some three to four million Greeks, half of Greece, like me," Polychronopoulos said.
The possibility of the radical left SYRIZA party emerging victorious has raised the question of a potential a Greek exit from the euro.
This mistrust of the future is shared by small business owners, in particular those who were courageous enough to start their activities during the crisis. But they have plenty at stake, and what they fear is uncertainty.
Apostolis Tsalavoutis, a 42-year-old technician, had dreamed of emigrating. Then he opened a shop which repairs and sells electronic devices.
"It doesn't just scare us, it's a nightmare for all Greeks, because with the euro you feel a sense of security, and if we go back to the drachma or some other currency, I believe we will enter into a downward spiral with no end in sight," he says.
Athensbook, a business dealing in mobile applications for young entrepreneurs, was also capable of overcoming the worst years of 2011 and 2012. Yet anxiety and uncertainty are back with all the hazards surrounding the potential electoral outcome.
"In Greece you get this volatility, things change very quickly, and sometimes completely unexpectedly, so that has the potential to disrupt your cash flow, the market tendencies, the investment tendencies," said the company's co-founder Dimosthenis Kaponis.
The story is not all one of failure or uncertainty, despite the challenges.
Korina Zervaki's café-boutique is a gamble that paid off after she left her job with a failed newspaper in 2012 to create her own business. It's a formula that works well, combining live concerts, a café and fashion store.
Asked what she would like the next Greek government to do, the 34-year-old cites a need to ease bureaucracy.
"I would like it to give more support to innovative ideas and entrepreneurs, especially when they are doing something new and different – I say this from personal experience, because I had a really hard time setting up," she says.
To emigrate to a more "business friendly" country has often crossed her mind, but for now Korina – and many others like her, despite the difficulties – prefer to stay in Greece.