Former Thai PM Shinawatra impeached over rice subsidy scheme
Comments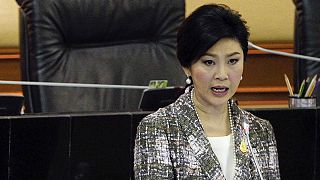 Military-backed lawmakers have voted to impeach Thai Prime Minister Yingluck Shinawatra over a controversial rice subsidy scheme.
The verdict carries a five year ban from politics.
It has also been revealed that Shinawatra will face criminal proceedings and a possible jail term.
She will go before the Supreme Court,accused of negligence, according to the Attorney General's Office.
If found guilty, Shinawatra would face up to 10 years behind bars.
Shinawatra on Thursday told the National Legislative Assembly the rice subsidy scheme set out to benefit Thai people and that she had done her best to stop corruption.
The government's project was a key election policy that helped bring them to power.
Under it, farmers were paid double the market price for their produce – in a bid to boost their incomes.
But it turned out to be a disaster, with huge stockpiles unsold in warehouses. The loss to the country ran into millions of euros.