DR Congo scraps plans for census after days of violent unrest
Comments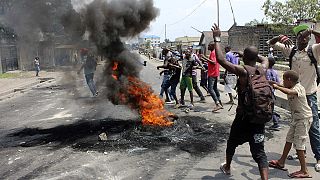 Democratic Republic of the Congo has scrapped plans for a national census before next year's presidential elections.
An electoral reform bill that required the census to be completed before a vote could take place sparked days of violent protests.
A modified version of the bill was passed by the Senate on Friday (January 23).
The International Federation for Human Rights said more than 40 people were killed during the unrest in the capital Kinshasa.
Witnesses said at least one woman was killed and two students injured when police fired tear gas and live rounds to disperse thousands of angry protesters in the eastern city of Goma.
The United Nations, US and France have called for restraint in handling the protests and urged elections to be held on time.
The country's opposition leaders said the original bill was aimed at extending the rule of President Joseph Kabila who became president in 2001 when his father, Laurent, was assassinated.
Joseph Kabila went on to win elections in 2006 and 2011 but, according to the constitution, cannot run for a third term.