Captured Ukraine troops forced to face angry crowd after Donetsk bus stop shelling
Comments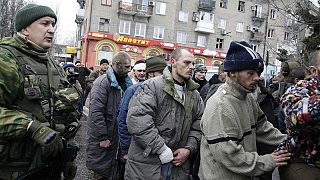 Captured Ukrainian servicemen have been taken to the scene of Thursday's deadly bus stop attack in Donetsk and paraded before an angry crowd, firmly convinced that Kyiv was behind the bloodshed.
Wearing civilian clothes and visibly injured, the prisoners were taunted and hit by locals, their separatist guards doing little if nothing to shield them.
Rebel leader Alexander Zakharchenko had urged residents to gather, promising them the opportunity to confront prisoners of war.
With victims still lying on the ground where they died, civilians lashed out at the captured government troops.
As in other bloody episodes of Ukraine's conflict in which more than 5,000 people are estimated to have died, the truth as to what happened may never be known.