Opera star Andrea Bocelli is honoured at World Economic Forum in Davos
Comments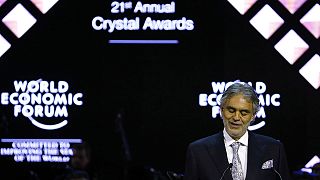 You might not expect to see a celebrated opera singer at The World Economic Forum in Davos.
But Andrea Bocelli joined the business and political elite in the Swiss mountain resort, to collect a coveted Crystal Award for helping improve the world through his music.
Bocelli has his own foundation which Davos organisers said "works to help people in need due to illness, poverty and social exclusion by promoting and supporting national and international projects that foster the overcoming of such barriers and help them to realise their full potential".
The hugely successful Italian tenor took time out at the Forum to talk to Euronews.
"Music has always been my passion and I always wanted to do my best," he told our reporter Isabelle Kumar.
"I think that music gives us joy and serenity. And in a certain way it helps the world to be a better place."
Blind since the age of 12, Bocelli's voice has delighted opera lovers around the world.
VIPs at Davos were also given a taste of the Bocelli magic as he performed on stage.