Ukraine military accuses Russia of direct attack on its forces
Comments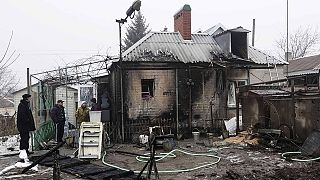 Ukrainian army units came under attack from Russian regular forces in eastern Ukraine on Tuesday (January 20) and heavy fighting was taking place, a Ukrainian military spokesman said.
It is one of the boldest assertions yet by Ukraine of direct Russian military involvement in the nine-month conflict between pro-Russian separatists and government forces.
At a specially convened briefing, spokesman Andriy Lysenko said Ukrainian forces were attacked by Russian troops in the Luhansk region.
"In spite of all preliminary agreements, Ukrainian military units were attacked in the north of the anti-terrorist operation zone by regular military formations of the armed forces of the Russian Federation. Heavy fighting is continuing near the Ukrainian army checkpoints 29 and 31 on the so-called Bakhmutska highway. Anti-terrorist operation forces have stopped the advance of Russian troops," he said, adding that the situation in the conflict zone was "serious but under control".
Lysenko had no immediate figures for estimated casualties.
The claims followed charges by Kyiv that the Russian military had stepped up incursions to support the separatists.
Moscow denied those accusations as "absolute nonsense".
Despite what NATO and Kyiv have described as incontrovertible proof of Russian military involvement, Moscow has consistently denied that its regular forces are deployed in Ukraine, acknowledging only that Russian volunteers may have joined the rebels.
Lysenko told the briefing that three more battalion tactical groups of Russian motorised infantry had been tracked inside Russia heading towards the Ukrainian border, as well as an artillery division.
There is growing concern for the fate of civilians caught up in the fighting in eastern Ukraine.
There was confusion and panic in Donetsk on Tuesday afternoon, with people running in all directions in one residential area as they tried to flee more shelling.
At least one person died there, with several fatalities reported across the region.
International monitors from the Organisation for Security and Cooperation in Europe (OSCE) have reported numerous ceasefire violations in eastern Ukraine in recent days. On Tuesday participating states of the OSCE called for an immediate ceasefire in Ukraine and the full implementation of the Minsk agreements.
Amid the heightened tension, Ukrainian and Russian foreign ministers are due to meet face to face in Berlin on Wednesday, along with their French and German counterparts.
Moscow again criticised EU policy towards Ukraine on Tuesday, accusing it of bias towards Kyiv whose forces it accused of having begun "shelling towns and cities" in southeastern Ukraine.