Malanda funeral held in Brussels
Comments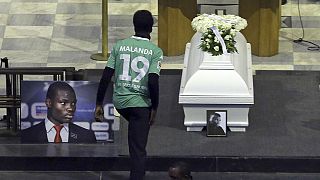 Hundreds of mourners gathered at the National Basilica of the Sacred Heart in Brussels on Tuesday to attend the funeral of Belgian Under-21 international Junior Malanda, who was killed in a car crash.
Malanda died on January 10 when en route to meet up with the rest of the Wolfsburg team who were due to fly to Cape Town for a winter training camp.
The car the 20-year-old was a passenger in swerved, crashed into a tree and flipped over several times, no other vehicles were involved in the accident.