'I'm no hero' says Bathily as France grants supermarket saviour citizenship
Comments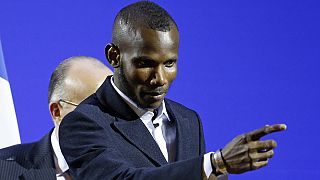 The French Fifth republic has a new citizen, Lassana Bathily, the Malian-born Muslim who saved the lives of several Jewish shoppers during this month's supermarket siege in Paris.
The 24-year-old came to France nine years ago, and had already applied for citizenship when his bravery catapulted him onto the front pages.
"People think I'm a hero but I'm not a hero at all. I'm just me, and I will stay the same. I am very happy, but it is also very difficult for me, because I lost a friend, Johan Cohen, one of the victims; we always used to laugh together," he said, head bowed as he read a short speech.
Fast-tracked for citizenship for his actions, Bathily received his new ID papers from the Prime Minister Manuel Valls himself in a ceremony carried live on television.
It is one of the key moments in the ongoing trauma in France triggered by the Charlie Hebdo massacre that has shaken society from top to bottom, and changed Bathily's life for ever.
It so nearly could have been very different, as when Bathily escaped the siege French police wrestled him to the ground thinking he was a terrorist, before he convinced them of his innocence and helped them prepare their assault to free the hostages trapped inside.