Boko Haram exporting terror violence
Comments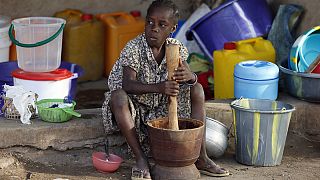 The UN Security Council has demanded that Nigeria's terrorist group Boko Haram disarm and demobilise.
The charity Oxfam says violence by the Islamist group has displaced 1.5 million people within the country.
One man who fled his home said people without means simply leave on foot, resting in the barren bush, with nothing to eat, and that pregnant women give birth under these conditions, with no medical support.
More and more of Nigeria has also become environmentally inhospitable due to severe deforestation.
Of the 36 states in Africa's most populous country (170 million people), three are under state of emergency law. Critics of the government condemn its inability to help people, and yet the Adamawa State Public Affairs Director Phineas Elisha redirected scorn towards the violence of Boko Haram, saying it mimics the movement ISIL's state-founding ambitions in Iraq and Syria.
Elisha dismissed those ambitions as the stuff of "…imagination, just telling people they have taken over, and that this is their republic — with nothing to offer and no form of government." He added, ominously, that "…we were told they applied Islamic law to the people they caught looting."
Boko Haram already applies its fundamentalist version of strict Sharia law in Nigeria over an area of some 30,000 square kilometres. And the conflict has spread in the region.
According to the UN refugee agency, the number of Nigerian refugees seeking safety in neighbouring Chad has almost quadrupled over the past few weeks. Chad authorities said 2,000 Nigerians crossed the border in the first week of this month alone.
Boko Haram, whose name means 'Western education is forbidden', has specifically laid waste to schools.
A teacher in a village attacked by the Islamists said that the army soldiers supposedly deployed to protect them ran past the villagers, stripping off their uniforms, and so how could the ordinary people hope to put up a fight.
International critics say poor government strategy has made the conflict in the region worse.
Outside estimates are that more than 10,000 people were killed last year, and now the violence has surged as presidential elections approach.