Tsipras champions hope for ordinary Greeks
Comments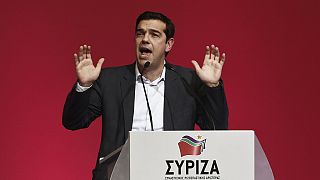 Alexis Tsipras rose to political stardom as crisis in Greece smashed apart the bipartisan system that had been in place for decades.
Trained as a civil engineer, Tsipras (born: Athens on 28th July, 1974) entered parliament in 2009 at the head of the Radical Left SYRIZA party.
It had won 4.6 percent of the votes. The entry threshold is three percent.
He positioned himself against the bailout conditions imposed on Greeks from the outside.
Tsipras said: "We presented our recommendation for the need to have a democratic way out and for the people of Greece to choose their future; our recommendation is for a referendum on these measures."
With Greece's youngest politician fighting austerity policy, in elections in 2012, Syriza increased its share of the vote to just under 27 percent and became the main opposition party.
It had become the second-largest in parliament, having rejected a proposal to join a coalition government with the pro-austerity parties after an earlier election that year.
Tsipras said: "Today we are opening the road to hope. Today we open the road to a better tomorrow with our people united, dignified and proud."
In the European Parliament elections in 2014, Syriza celebrated winning first place with 26.57 percent. It steadily closed the gap on the country's leading conservatives in polls.
By this time, ordinary Greeks under binding austerity policies had suffered a 40 percent loss in their incomes, unemployment stood at an official 27 percent and their national debt was 177 percent of GDP.
Syriza proposed a programme it said was non-negotiable.
The main parts were: raise the minimum wage to 751 euros per month; restore Christmas bonuses for pensioners; provide free health care and electricity; and give meal vouchers tickets to the poorest of the poor. These and other measures would cost an estimated 11-13 billion euros.
Yet at the same time, Tsipras was no longer saying debt reimbursement must stop at once, and no longer calling for banking nationalisation and a reversal of privatisations.