Samaras, a liberal conservative in pursuit of stability
Comments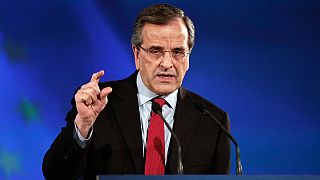 Antonis Samaras had limited choices at the end of December. The Greek prime minister was obliged to move up elections. The snap polls were triggered by parliament's failure to elect a new president.
Speaking before a decisive third round of voting to decide a successor to head of state Karolos Papoulias, Samaras said a general election, which must be held if a new president cannot be appointed, was against the national interest.
From a well-connected family, the Athens-schooled and then Harvard-educated 63-year-old former minister of finance, foreign affairs, culture and sport has led the liberal-conservative New Democracy party since 2009.
Samaras found himself steering Greece at the height of the debt crisis when, in 2012, his party won elections twice in two months. He promised that the country would stick to its commitments and keep the euro, but the prime minister governed without an absolute majority.
He said: "I call upon all political parties that share those objectives to join forces and form a stable new government."
One year and ten months later, Greece's fortunes had shifted for the better. Government debt found international investors. German Chancellor Angel Merkel celebrated the occasion with him. Athens had cleaned up its finances — albeit against a backdrop of protest — and was forecasting 2.9 percent growth for 2015. The human cost was high: thousands of businesses had closed and unemployment had risen to 27 percent, officially — which amounted to 1.5 million people without jobs.
Running for re-election, Samaras promised to reduce corporate tax from 26 to 15 percent, and to reduce tax on the highest incomes from 42 to 33 percent. Without putting a figure on it he also said he would reduce property taxes. And he would leave already battered salaries and pensions alone.
Samaras linked his promises to negotiations with the European Commission, the European Bank and the IMF — the Troika who hold the purse strings. They insist that Greece must keep established promises if it is to access further stages of economic rescue funds.