Ukrainian soldiers claim to have wrested control of Donetsk airport from pro-Russian rebels
Comments
By
Euronews
with
ASSOCIATED PRESS, REUTERS, UKRAINIAN MEDIA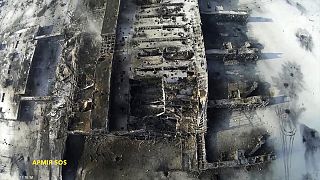 After heavy fighting over the weekend the Ukrainian government claims its soldiers have retaken control of large parts of the airport in Donetsk, the eastern city at the centre of the pro-Russian rebellion.
Video claimed to have been filmed inside the terminal at the weekend showed what appeared to be organised and well-equipped pro-Russian rebels. The airport has been been closed since early last year when they took control of the site.
Alexander Zakharchenko,
head of the self-proclaimed Donetsk People's Republic said:
"Kiev has used the truce in the eastern region of Donbass to realign and considerably build up its forces, including heavy weapons like large calibre artillery and multiple rocket systems like Grad and Uragan missiles".
In this latest operation officials said four Ukrainian soldiers were killed and 32 injured. No figures have been given on the rebel side.
"We are ready to stop the fire if the terrorists stop shooting at us, said the government's Anti-terrorist Operation spokesman, Andiry Lysenko. "Under certain conditions we're ready to withdraw our weapons to a distance of 15 kilometres, as outlined in the Minsk agreements. Ukrainian soldiers have never entered Donetsk and have never aimed to enter the city."