Deal struck to save Polish coal mine jobs
Comments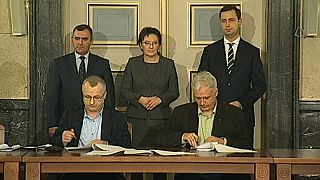 The Polish government has reached a deal with trade unions to keep open mines which had been slated for the axe.
The stand off ended after a week of protests and hunger strikes over and under ground over plans to restructure Europe's biggest coal producer Kompania Weglowa.
The government had previously announced it would close down four mines, leaving 5,000 without jobs.
Though details of the deal were not revealed, it's believed the government may merge the loss-making mines with state-owned energy firms.
The four mines which had been scheduled for closure lost 192 million euros last year.
Many of Kompania Weglowa's mines are deep and expensive, making them difficult to run as global coal prices are in freefall.
Coal supplies 90 percent of Poland's electricity, but buyers are increasingly turning to cut price supplies from Russia.