Kharlan and Kim win sabre gold in New York
Comments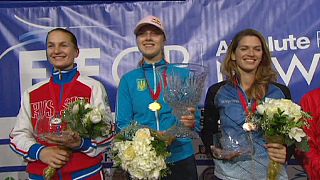 Olha Kharlan won gold in the sabre division at the New York fencing Grand Prix on Monday.
The 24-year old World number one from Ukraine, who won bronze at the 2012 Olympics in London, fought her way to the top of the podium in style in Brooklyn.
The two-time world and five-time European champion beat on-form Russian Sofya Velikaya who had won the previous two stops on the tour.
Kharlan eventually prevailed 15 – 12 at the iconic Grand Prospect Hall.
Junghwan Kim came out on top in the men's final.
The South Korean sabre fencer went up against 2004 Olympic champion Aldo Montano of Italy.
Kim got off to a blistering start and was six hits up by the break at 8-2.
Montano failed to seriously challenge in the latter stages as Kim won through 15-10 to earn gold.