US counter intelligence warns against complacency in the fight against terror
Comments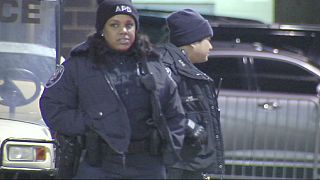 Security at so-called soft targets such as train stations may have been stepped up in France following the Paris attacks but in the US it's the norm.
But now counter intelligence experts meeting in Washington are warning this is no time to get complacent.
Daniel Benjamin former US State Department Coordinator for Counter Terrorism was one of several speakers taking part in a conference at the Brookings Institution which is a Washington-based think tank.
He said: "I do expect that we are going to continue to see attempts and possibly successful ones to carry out violence in the United States. I do think that our intelligence and law enforcement capabilities are vastly beyond where they were on 9/11."
The main concern is of lone wolf attacks by returning western-born fighters from foreign battlefields – it's a worry the US is slowly waking up to.
According to Daniel Byman of the Brookings Institution:"There are a fair number of things prominently associated with the United States: US support for Israel; the intervention in Iraq and Syria is led by the United States. So certainly the United States is always high on the list, but there is a lot more going on."
Euronews Washington correspondent Stefan Grobe concluded: "There is a sense among Americans that the entire west is targeted by jihadist terrorists and that the US has been spared so far. But Americans also feel that this luck will not last forever."