New footage emerges of Charlie Hebdo terrorist attack
Comments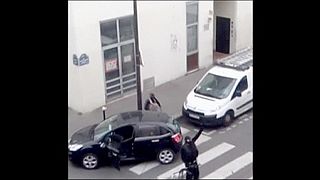 Dramatic new video has emerged showing Islamist militants Cherif and Said Kouachi, moments after the Charlie Hebdo massacre.
The Reuters news agency said it obtained the footage, shot from a rooftop near the newspaper's offices.
Hooded and dressed in black, the men are seen calmly reloading their weapons and getting into the black car in which they make their getaway.
One of the gunmen repeatedly shouts: "We have avenged the Prophet Mohammad" – a triumphant cry heard clearly on the newly-released amateur footage.
As the pair drive off, they fire on a police car blocking their path which is forced to reverse at speed.
It is thought the police vehicle was struck by several bullets but the officers inside were unhurt – unlike Ahmed Merabet, the policeman shot dead by the brothers nearby as he lay wounded on the ground.
The Kouachis would themselves be killed, two days later, when police raided the printworks northeast of Paris where they had sought refuge.
Their deaths and that of fellow Islamist militant Amédy Coulibaly at a Kosher grocery in the capital, would mark the end of a three day nightmare that France will never forget.