"Pings" detected in AirAsia Flight QZ8501 search
Comments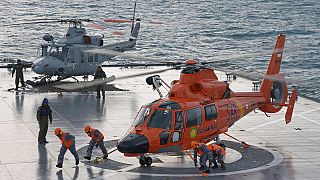 Indonesian search and rescue teams have detected pings in the hunt for the black boxes of AirAsia flight 8501.
The discovery has raised hopes that crucial clues will be obtained on why the plane went down.
The head of search and rescue operations Fransiskus Bambang Soelistyo explained that their efforts are focused on re-floating the tail section which was found on Wednesday. They will use a combination of balloons and cranes to lift it up from the sea bed to protect it from damage.
Officials hope to find the flight data recorders, or black boxes in the tail section. However, some have raised doubts that they remain in their original position.
The cause of the crash remains a mystery, but, the plane encountered bad weather and requested a flight path change before communications were lost on December 28.
Beyond the black boxes, the hunt for bodies remains a priority.
Progress has been hampered by the strong winds and high waves. Of the 162 people on board, so far 48 bodies have been recovered from the Java Sea.