Africa Eco Race: Theuretzbacher wins stage ten as Ullevalseter retains race lead
Comments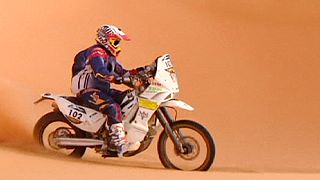 Norway's Pal anders Ullevalseter continues to lead the Africa Eco Race but saw his sizeable lead nibbled away at by closest rival Robert Theuretzbacher following stage ten.
Theuretzbacher won the day's stage that took the competitors over 348 kilometres from Akjoujt to Toueila in Mauritania.
Ullevalseter was second on the day losing just under four minutes.
He still holds a lead of just under two and a half hours over his Austrian rival with two stages left.
In the car and truck category Jean Antoine Sabatier won his third stage in a row.
The French driver steered his Buggy One to top honours on the day with a confident ride through the dunes.
He extended his lead in the general standings to just over 55 minutes from Kamaz truck driver Anton Shibalov of Russia who was second across the line in Toueila four minutes and 19 seconds back.