Rowland punches fan during Eurocup game
Comments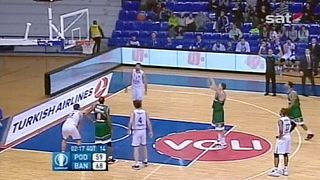 A Eurocup basketball match between Podgorica and Banvit in Montenegro was interrupted after an angry fan ran on to the court and shoved a player, prompting point guard Earl Rowland to come to his team mate's rescue.
The 31-year-old threw a punch which sent the offender crashing to the floor. A huge brawl than broke out, forcing security stewards and police to move in before the game eventually resumed after a 15-minute delay.
Despite the interruption, Banvit went on to win the match 74-68.