Charlie Hebdo's unrepentant record
Comments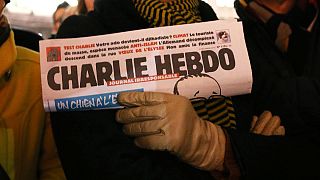 Charlie Hebdo has been publishing satire since its creation in 1969. Its left-wing editorial content was like bare-knuckle boxing, pop, politics, religion all fair game in the secular temple of traditional free expression.
In February 2006, it reprinted Danish daily Jyllands-Posten's unflattering cartoons of the prophet Mohammed, which had sparked a storm of threatening protests throughout the Muslim world.
The editor-in-chief of the time, Philippe Val, said: "We published those caricatures first out of solidarity with the cartoonists in Denmark, not as a provocation. Exercising the right of freedom of the press is not provocation."
Charlie Hebdo continued publishing undeterred by recurrent threats from Islamist groups. Unrepentant, in November 2011, it ran an issue re-Christening itself 'Sharia Hebdo', a stab at the moral code of Islam. The day it hit the stands, the newspaper's office was fire-bombed and its website was hacked.
Cartoonist Renald Luzier, known as 'Luz', said: "Those people don't believe in God. They don't believe in their religion. They believe in fire, disappearance and death but not in their religion. They're bandits."
In September 2012, after American embassies in the Middle East had been attacked by crowds protesting violently against a sort of anti-Islamic movie trailer called 'Innocence of Muslims', released on Internet, Charlie Hebdo ran more depictions of Mohammed.
Accused by some of spreading hate and slander, its editor-in-chief Stéphane Charbonnier — who died in the latest attack — defended this: "We can't caricature Mohammed in France? Oh yes we can caricature Mohammed, we can caricature everyone in France. In France, religion is part of a philosophy, like an idea, and I can caricature Mohammed, just like I can caricature Marx."
The legal complaint brought against the paper went nowhere, though the Foreign Minister questioned the editorial intelligence of what he said poured oil on fire.
Charbonnier, also known as Charb, said: "No one, in fact, knows anything about Mohammed or about this religion, a religion that scares people because every time we talk about it it is to talk about attacks committed by an extreme minority. That's why I think we should have started there: spreading knowledge about Mohammed and Islam before laughing at it or with it."
Imam Hassen Chalghoumi, with the municipal Drancy mosque in Seine-Saint-Denis near Paris, called the journalists of Charlie Hebdo 'the martyrs of freedom'.