Russian luxury car sales surge as rouble depreciates
Comments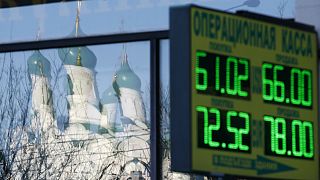 Residents of Moscow are hopeful that better times are just around the corner for the Russian economy.
The Rouble started this week notably lower against the dollar and lost 40 percent of its value last year.
Many Muscovites have been adapting.
"I prefer to keep money in three currencies depending on where and when I will have to spend it," explained Moscow resident Yevgenia Roschyk. "If I have to spend in rubles I go to my ruble account, if I need euro I have a euro account, and a dollar account. I prefer to split my money and keep it in different banks. So, if one bank has problems, it won't affect me too much."
Luxury cars are increasing in popularity among Russians who are keen to convert the plunging ruble into concrete assets.
"All cars with the original ruble price tags were literally swept off our showroom floor within two weeks," said Sergey Mordovn, sales manager of Lamborghini store in Moscow. "We have no more cars to sell with the ruble price tag. Our suppliers have been slow in delivering new cars as they have no idea how to price them at the new exchange rate."
The price tags on luxury cars haven't deterred wealthier customers either. Prices have been changing so fast that some auto makers had to even suspend deliveries.
"The automotive market is going to experience very hard times in 2015. Many of the companies that are operating like dealers will be bankrupt and that's because the value of money will be quite high. Our business needs a lot of money to buy cars, a lot of operating money," said Sergei Solonchenko, development director at Rolf Retail Auto Traders.