Lights are switched off in cities across Germany in protest against anti-Islam PEGIDA group
Comments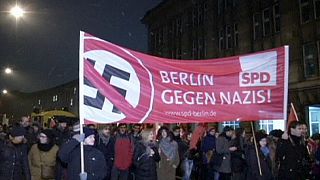 Cologne Cathedral was plunged into darkness in a protest against extremism on Monday evening ( Jan 5)
It was one of several such events orchestrated by opponents of a group campaigning against what it sees as the "Islamisation " of Europe called PEGIDA
In Berlin the Brandenburg Gate was likewise unlit as both pro and counter PEGIDA demonstrations took place.
Critics accuse the group of being led by racists and the far-right, although many PEGIDA members claim they are just expressing concern against the rise in Muslim asylum seekers.
Reporting euronews from Berlin Patrick Wauthier said:
"At this first demonstration in Berlin, PEGIDA opponents out numbered PEGIDA supporters by ten to one. We will have to wait until next Monday's follow- up event to see how things develop.
Even in "Dresden"http://www.euronews.com/2014/12/16/around-15000-turn-out-for-dresden-s-biggest-ever-pegida-anti-islam-rally/, the birth place of the PEGIDA movement, the lights were turned off while 18,000 of their supporters marched through the city centre.
PEGIDA
members who claim to be ordinary conservative people say they are distrustful of the media which they blame for giving them a bad image.
Most are reluctant to talk to the press but one did give his opinion to our reporter:
"We are all very peaceful here , you might mention that. it is always reported in the media quite differently, no matter if it is peaceful, in print or on the television the reports are inaccurate."
A recent poll ( in Germany's Stern magazine) of 1,000 people found one in eight Germans would join an anti-Islam march if PEGIDA held one near their home.
Germany receives more refugees and asylum seekers than any other EU country. Many of those have come from war-torn Syria.