Migrant 'ghost ship' arrives in Italy
Comments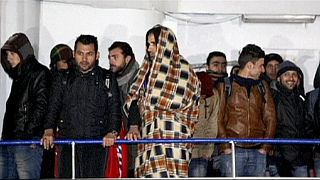 Abandoned at sea, 360 migrants aboard the Ezadeen are now safe on land at the Italian port of Corigliano Calabro.
All were described as being in relatively good health despite their three-day ordeal.
It appears smugglers sent the ship on a collision course with the Italian coast in rough seas with no one to steer.
Some 500 Syrian would-be immigrants arrive aboard the Ezadeen in Corigliano, Italy. #Photo by Alfonso Di Vincenzo pic.twitter.com/5ltz9kpifO

— Agence France-Presse (@AFP) January 3, 2015
It is the second such 'ghost ship' in recent days, pointing to an alarming trend for travel during the treacherous winter months.
"We are seeing that the stream of migrants is continuing through the colder months, such as November and December," remarked Giovanna Di Benedetto from Save the Children.
"We also see that Syrians, Palestinians and Kurdish people are the more frequent travellers. Among them very vulnerable people, including children, pregnant women and old people. That should suggest the importance of rescue operations at sea," she explained.
Italy is the frontline for migrant arrivals by sea. The UN said that by October in 2014 165,000 migrants had attempted to cross the Mediterranean to Europe that year, compared to just 60,000 in 2013. The government ended it's Mare Nostrum search and rescue operation in November, to be replaced by a cheaper EU operation called Triton.
Migration organisations fear that traffickers have found a new way to exploit the system.
The smugglers present their ships as legal entities to enter Italian waters before abandoning ship, forcing the coastguard to intervene to save lives.