Austrian Robert Theuretzbacher wins stage five of the Africa Eco Race.
Comments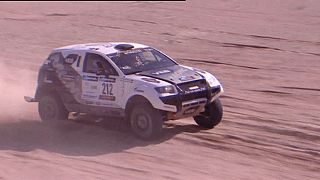 Austrian Robert Theuretzbacher sealed victory in stage five of the Africa Eco Race.
Despite his win on the 225 kilometre leg he still trails Pal Anders Ullevalseter by just over two hours in the overall standings. The Norwegian who is the favourite won the first four stages.
There was a surprise as the cars battled it out to the finishing line with Russian Anton Grigorov bagging his first stage win ahead of Andrey Cherednikov.
But the main winner of the day was arguably Jacky Loomans who came home third. He saw his two main rivals hit by mechanical problems so his place at the top of the overall standings was strengthened.
Sergey Kyprianov led the trucks home across the arid terrain for a second victory in this years race. He was just an hour and fifty four minutes behind Grigorov.
The gas powered Kamaz beat the Portuguese Elisabete Jacinto with Anton Shibalov making up the podium.