The first meteor shower of 2015 peaks this weekend
Comments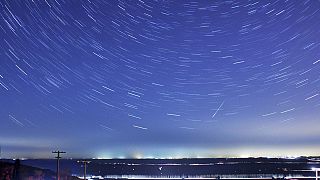 Stargazers can start the New Year off with a bang this weekend as the first meteor shower of 2015 reaches its peak on Saturday night.
The entire activity period of the Quadrantids runs from January 1 to 5, 2015.
The first meteor display of the year will be the Quadrantid meteor shower. Meteor showers are usually named after the constellation in the sky where their radiant is located: the point in the sky from which they appear to radiate. Thus, the Perseids are named for Perseus and the Geminids are named for Gemini.
The radiant of this shower is an area inside the constellation Boötes. The name comes from Quadrans Muralis, an obsolete constellation that is now part of Boötes. It lies between the end of the handle of the Big Dipper and the quadrilateral of stars marking the head of the constellation Draco.
Adolphe Quetelet of the Brussels Observatory discovered the shower in the 1830s, and shortly afterward it was noted by several other astronomers in Europe and America.
Although the Quadrantids can produce over 100 meteors per hour, the sharp peak of this shower tends to last only a few hours, and doesn't always come at an opportune time. In other words, you have to be in the right spot on Earth to view this meteor shower in all its splendor.
The radiant point is in the part of the sky that used to be considered the constellation Quadrans Muralis the Mural Quadrant. You'll find this radiant near the famous Big Dipper asterism, in the north-northeastern sky after midnight and highest up before dawn. Because the radiant is fairly far to the north on the sky's dome, meteor numbers will be greater in the Northern Hemisphere.
Unfortunately, the almost-full waxing gibbous moon is out almost all night long, sitting low in the west in the dark hour before dawn.
Source: Space.com and NASA