Spain: Atocha station in Madrid closed over fake bomb alert
Comments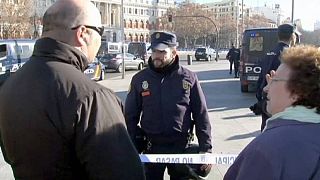 Memories of a horrendous terrorist attack came flooding back when Madrid's main railway station was closed over a bomb alert that turned out to be false.
Passengers had their journeys disrupted and Atocha station was closed for almost an hour.
In March 2004 it was the scene of an attack by Islamists who planted a series of bombs on trains, killing 191 people.
This time there was nothing.
"I was going to Seville at 11 (o'clock) but they aren't letting us through because there has been a bomb alert so all the trains have been stopped a station before this one," said passenger Julio Mojacar.
"I was going to take the train but when I arrived I found the police. Some friends told me through WhatsApp what was happening and now we're waiting to hear more," added another traveller, Rebecca Alacaide.
A suspect was arrested for allegedly threatening to explode a bomb on board a train.
Passengers pulled the emergency brake and got out onto the track. Several suffered anxiety attacks.
Anti-terrorist procedures were activated, with other trains, buses and metro services halted.